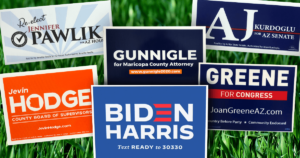 We are frequently contacted about how and where people can get candidate campaign signs.
Candidates for the Arizona Legislature and Maricopa County offices have provided the LD 17 office with signs, on a first-come, first-served basis. The signs we have available vary based on availability, please contact us to inquire about which signs are at the office.
For pick up information, see our campaign office page.
Federal Office
We do not have yard signs for federal candidates, you can purchase them from the candidate websites: